Weekly Prayer (11/18)
【Last Weekly Prayer (11/11】  【Next Weekly Prayer (11/25)】
【Cleansing/Covering Prayer】
---
Editor's Words
---
General Patton: Shake The Earth By Fearing God

The Orientals said: "Man can strive to accomplish things, but only God can make things happen " The Western said: "God helps those who help themselves . Although everyone has a different view of God, but all have to admit that no one can do anything by themselves. … Detailed Reading
---
Declaration Prayer:  Prayer of Declaration for President Trump
In the name of Jesus Christ we declare:
The Holy Spirit will anoint President Trump abundantly with divine wisdom and knowledge, with God's counsel and might, with knowledge and fear of the Lord.  He will not judge by what he sees with his eyes or decide by what he hears with his ears or lean on his own understanding but he will recognize God's prompting and move according to God's guidance.  

President Trump will have a supernatural discernment to know who is trustworthy and who is not.  He will bring into the light all deception and intrigue, expose and reverse the plans of those who would harm President Trump and the United States.  All voices and influences that do not come from God will be broken off.  God's truth and peace will surround and reign in the White House.

God has raised President Trump to govern the United States. The Lord Jesus will anoint President Trump, so that he will have victories over  strongholds of the enemy and establish justice for the needy. God will give President Trump strength and courage to persevere in the constant battle that surrounds him and refresh him.

God will give President Trump a hunger and thirsty heart to love God with all his heart, mind, might and strength to seek God, and become more and more intimate with God, and walk in the will of God.

God will keep President Trump from any form of assassination, including health, disease, traffic accidents, murder, and death. Bless him and his family coming in and going out in peace, no magical spells of the dark powers against them will prosper !
(Rewritten from Pastor Andrew Brunson's prayer to President Trump on October 12, 2019)
---
Pray for United States: Upcoming U.S.-North Korea Talks

【Event: Upcoming US-N. Korea's new 'Development-Level Talks' is moving behind the negotiations stall. Pyongyang is looking forward to a positive discussion with America where it left off last June: 'U.S. insisted Sanction' vs. 'N.K.'s non-compliance nuclear freeze'.  … Detailed Reading】
Proverbs 9:10 'Respect and obey the Lord! This is the beginning of wisdom, to have understanding, you must know the Holy God.'
Jeremiah 47:7 'How can it be quiet when the Lord has given it an order, against SHKELON AND AGAINST THE SEACOAST – There He has assigned it.'
Isaiah 33:6 'He will be the stability of your times, a wealth of salvation, wisdom and knowledge!'
【PRAYER】
Idolatry worship, slavery, fear, self-reliance Father, we need Your mercy and forgiveness for North Korea's regime, Kim Jong-Un and their ancestors worshiped as idols, for the sins of repressiveness; slavery; forced beliefs and self-reliance; forced perpetual fear on people; persecution of hundreds of thousands of Christians; slave-wives sex trades; counterfeit money, drug trades, forced isolation ideology.

(Prov. 9:10)

Open the eyes, ears and minds to know God Father, we see the lack of love and hope, the indecency of livelihood. We pray for salvation to come, slavery and oppression to be broken in Jesus' Name, idolatry worship and idols destroyed by the destroyer in Jesus' Name. For eyes, ears and minds cutting loose to see God

(Jere. 47:7)

, In Jesus' Name.
Hope in the Agreement Father, You are the God who provides and creates all things, You are the Hope for the hopeless. May Kim Jong-Un encounter Father's mercy and loving kindness in the coming meeting. May he see Your greatness and turned hungry and thirsty. May You grant N. Korea an everlasting agreement in this time and place according to Your Plan

(Isa. 33:6)

.
In Jesus' Mighty Name. Amen.
---
Pray for Israel: Israel Under Rocket Attack From Gaza


【Background:Since January 12th, the Israel Defense Forces (IDF) targeted action – killing the top leader of the jihadist group in Gaza, Abu al-Ata (according to the IDF, the group plans to launch an attack against Israel), the jihadist group immediately retaliated against Jerusalem and Tel Aviv. Within 24 hours, more than 200 rockets were fired into Israel, and sirens were heard more than 450 times. We have heard the miraculous protection and guidance from the attacked areas. We believe that more of such protections will occur. Please continue to pray for this situation. 】 (Excerpt from LCEJ Israel Weekly Updates 11/10-16/2019)
Psalms 91:1-11  "Whoever dwells in the shelter of the Most High will rest in the shadow of the Almighty. I will say of the Lord, "He is my refuge and my fortress, my God, in whom I trust." Surely he will save you from the fowler's snare and from the deadly pestilence. He will cover you with his feathers, and under his wings you will find refuge; his faithfulness will be your shield and rampart. You will not fear the terror of night, nor the arrow that flies by day, nor the pestilence that stalks in the darkness, nor the plague that destroys at midday. A thousand may fall at your side, ten thousand at your right hand, but it will not come near you. You will only observe with your eyes and see the punishment of the wicked. If you say, "The Lord is my refuge," and you make the Most High your dwelling, no harm will overtake you, no disaster will come near your tent. For he will command his angels concerning you to guard you in all your ways."
Ephesians 2:4-6 "But because of his great love for us, God, who is rich in mercy, made us alive with Christ even when we were dead in transgressions—it is by grace you have been saved. And God raised us up with Christ and seated us with him in the heavenly realms in Christ Jesus."
The Lord is Israel's Refuge: Dear Lord, when Israel experiences attacks, as in the past, You continue to keep Israel and put her in the shadow of Your wings. Israel will not fear the terror of night, nor the rocket that flies by day. Because You are her refuge no harm will overtake her, and no disaster will come near Your people. You will guard her with Your shalom. 

(Psalm 91:1-11)

Pray for the Israel Defense Forces: Lord, we ask You to give them supernatural guidance to be able to accurately locate and destroy the rocket launching bases in Gaza to reduce the terrorist organization's attack capabilities. For the sake of people on both sides, we ask that this conflict be restrained and not be allowed to escalate or upgrade.
Pray for Gaza's Jihadist Group: May the love and salvation of Christ come upon them, and the rich mercy and love of the Father resolve the hatred in their heart. Oh save them from the dark powers that bind them, and set their precious souls free, that they may live the abundant life in Jesus.

(Eph. 2:4-6)
We pray in the name of Jesus!
---
Global Critical Event
---
Critical Event: Pray for Hong Kong – Restoring Peace And Order

【Current Events : Hong Kong's resistance continues to heat up, police launched tear gas into many universities, especially Chinese University of Hong Kong has the most serious conflict. On November 12,The second bridge leading to the school was like the "Battle on No. 2 Bridge" the fire is raging Like a battlefield. When the riot police and the demonstrators broke out in a fierce conflict for many hours, the police fired thousands of tear gas and rubber bullets, injured a large number of student demonstrators. …Detailed Reading】 
Proverbs 28:13 "Whoever conceals their sins does not prosper, but the one who confesses and renounces them finds mercy."
Psalm 110:3 "Your troops will be willing on your day of battle. Arrayed in holy splendor, your young men will come to you like dew from the morning's womb.
【PRAYER】
Forgiveness And Healing: Father God,

whoever conceals their sins does not prosper

(Proverbs 28:13)

.  Please forgive the sin of hatred and violence, happening in Hong Kong, and call everyone to forsake his evil way, and quickly turn back to You. Please release peace, love, and anointing for reconciliation from the Lord Jesus to heal the land and the heart. To help the ruling party, to be humble and manage Hong Kong with fairness, righteousness and justice. Please bless the police officers to be full of compassion, justice and righteousness in their heart.
God's Will Be Done: Father God, may Your Name be hallowed by the people of Hong Kong.  May Your kingdom come to Hong Kong and Your will be done in Hong Kong as it is in heaven. By Your grace and mercy, save the 7.48 million residents of Hong Kong from evil.  Send the heavenly angel army in the name of Jesus Christ, to break the evil powers over Hong Kong, and command the evil spirits of attack, control, death, and hatred to leave Hong Kong and restore peace and order to Hong Kong. We declare God's grace and favor come down! May Hong Kong align with heaven! May the Father command the younger generation, to be arrayed with holiness to follow the Lord Jesus. May the Lord releases the heavenly power to the earth, Hong Kong will release the victorious roar of a lion, to enter into a new era, millions of people be saved! (Psalm 110:3)
Pray in the holy name of Jesus Christ, Amen.
---
Revive Europe 40 Weeks – Pray for the Republic of Macedonia

【Background: Macedonia is one of the 13 countries of the Balkans in southern Europe. It became independent in 1991. Since the northern province of Greece is also called "Macedonia", they have disputed over the country name with Greece for more than 20 years; the Macedonian parliament was amended in February 2019, and Macedonia was officially renamed "the Republic of Macedonia." … Detailed Reading 】
Acts 16:9  During the night Paul had a vision of a man of Macedonia standing and begging him, "Come over to Macedonia and help us."
2 Thessalonians 3:1  As for other matters, brothers and sisters, pray for us that the message of the Lord may spread rapidly and be honored, just as it was with you.
【PRAYER】
Pray for The Macedonian Government: Father God, send the spirit of reconciliation and peace to the two ethnic groups of Macedonia, to resolve racial and ethnic hatred with the love of the Father, so that the Macedonians and Albanians can be harmonious with each other and to reconcile with the people and with God.  Please remove all the roots of hatred, violence, and bitterness by the power of the blood of the Lord Jesus,  cleanse and heal the land. May the new president and the new government have the fear of  God

and the love for the people in their hearts. Grant them wisdom to properly handle ethnic cultural issues and prevent bloodshed from happening again. Please watch over the needs of the poor in Macedonia so that they can escape from the predicament and enter into the abundance of the Kingdom of God.

Reviving The Macedonian Church: Father God,  Hear the cry of Macedonia! Ignite the fire in the hearts of the Macedonians, and bring the revival to the church.  Let them be filled with the power of the Holy Spirit; raise up the young, to have a heart that loves the Father, not to compromise with sin, to embrace their position of true son in Christ, walk into the vision and destiny that God has given them. Send evangelists from nations to come to Macedonia, and share the love of Jesus on the Cross with the Macedonians, so that the Muslim community can know Christ, for truth of the Lord's teaching can be opened quickly and His name be glorified.

(Acts 16:9; II Thessalonian 3:1)
In the name of the Lord Jesus Christ, Amen!
---
Pray For First Nations
---
The North America First Nation –  " The Sleeping Giants Great Commission: Turn The World Upside Down "
【Current Events: God is awakening the First Nation People everywhere, and quickly connecting  various tribes together. Pastor Waltor Taylor have invited all tribes to Okeechobee, Florida to participate in the gathering of "The Sleeping Giants Commission: Turn The World Upside Down " ... Click to read more 】
John 17:22  

I have given them the glory that you gave me, that they may be one as we are one—

2 Chronicles 7:14  

if my people, who are called by my name, will humble themselves and pray and seek my face and turn from their wicked ways, then I will hear from heaven, and I will forgive their sin and will heal their land.
【PRAYER】
Awaken The Sleeping Giant And Turn The World Upside Down: Heavenly Father, pour out Your anointings of love, heal the deep wounds of the Seminoles, lead them out of the bondages of hatred and unforgiveness, and receive the freedom in Christ Jesus.  Remove the roots of all the stronghold of the generations, give them supernatural grace  to remove ungodly core of cultures , raise up the younger generations, turn the Seminoles around.  Help them to clearly understand their positions in the Kingdom of God, grow up quickly to enter into their destiny and calling of God! Heavenly Father, now is the time for the First Nation-the sleeping giants to wake up! Please continue to awaken the global first nations  and raise them up to turn the world upside down!
Pray for the Gathering : Heavenly Father, You are a faithful God, and You will supply all the spiritual and material needs of this gathering.  May Pastor Walter, tribal leaders and Chinese worshipers in the meeting be sensitive to the Holy Spirit and be able to put down all the plans and agenda, fully submitting to the Holy Spirit, working with each other in unity.  Let there be a breakthrough to achieve God's purpose for this gathering.
In the name of the Lord Jesus Christ, Amen!
---
Pray For Church
---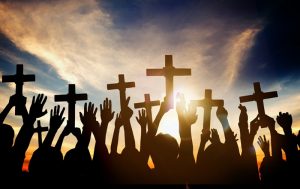 ---
Pray for Participating Churches and Pastors on Regional 24/7 Prayer Walls
【Editor's Note: The 24/7 prayer walls listed here are especially for local churches and pastors. If you are committed to watch on the regional walls, simply click on the link listed below to connect to the local prayer wall. 】
---
---
---
Related Events and Prayer Background
---
---
---
General Patton: Shake The Earth By Fearing God 
The Orientals said: "Man can strive to accomplish things, but only God can make things happen ." The Western said: "God helps those who help themselves . " Although everyone has a different view of God, but all have to admit that no one can do anything by themselves.
During the Second World War, Famous American General Patton was the most unruly general of the European Allie under Commander Eisenhower. On the battlefield, his style of life as a stalwart motivated the soldiers to suppress the enemy with a swift and aggressive attack. Patton believes that bravery is the most important thing between two adversaries. Therefore, he acted very exaggerated, He dressed himself with the shiny helmet, ivory handle pistol at the waist, and the high ankle boots. His jeep will have an over-sized military placard front and back, and a tweeter to announce his arrival.
The German generals respected General Patton more than any other Allied general. Hitler called him "a crazy cowboy general." German general Yodel said: "He likes to make big moves and dare to take big risks and win big battles." The third army commanded by Patton was invincible attacking Germany. Once the commander was concerned that he was not strong enough and ordered him to bypass the town of Trier. When the order was sent to Patton. He responded: "I have already conquered Trier." sarcastically he said: "Do you want me to return the German army?" The boss was angry but can't help but love him.
Such a warrior that stunned the enemy, who will he respect? As the army pastor O'Neill recalls, Patton once said to him: "I am a loyal Christian. For a person to achieve anything, he must make three efforts, careful planning, hard work and pious prayer. In planning and execution. There is something unknown that determines victory or defeat. Some call it luck, I say it is God."
The German generals can only see Patton's swift and fierce armored forces. But didn't know his most powerful force is from the Heavenly Father. Patton was born in San Marino, Calif., a traditional military family, deeply rooted in the Christian faith. All his life he walks with the fear of the Lord.
In December 1944, the German army assembled 250,000 troops to launch the "Guardian Rhine Battle", and the offensive was so fierce that the Allies were not able to respond. The US Air Force 101 Airborne Division fell into a trap. Eisenhower urged Patton to save the army, Patton quickly attacked, but the Nordic was in the worst winter weather, and the rain and fog made it difficult for US aircraft to attack. Patton asked the chaplain to write a prayer.
The omnipotent and most benevolent Lord, we humbly come to ask You for grace, control these unrestrained rains that we face, give us the fair weather for the battle, graciously listen to our requests as soldiers ⋯ ⋯Crush the oppression and evil of our enemies and establish justice between Your man and the country, Amen.
Patton ordered to print 250,000 copies of the prayers. On the next day, all officers and men received a prayer card when they received food and ammunition. Patton also sent a letter to the soldiers. He wrote very specifically, that they need to pray not only in the church, but anytime and anywhere, to pray during marching, and in battle, we must have the assurance that God is with us, pray and trust that we will not be defeated. After the prayer, the weather quickly improved. Three days later, the Third Corps arrived in Bastogne and rescued the besieged US troops.
Patton wrote afterwards: "This is the most outstanding achievements in this war". Patton takes no credit, he said: "The Lord helped me, and saw me through to accomplish the mission, … but I myself am insignificant." In fact, in the past decades, General Patton's words are still so insightful:
"There should be more people praying in this world than those who fight. If the world gets worse, it must be because there are more people fighting than people who pray." – George Barton
For the peace of the world, let us all become people who prays.
【Back to Top】 【Back to Related Prayer】
---
Pray for United States: Upcoming U.S.-North Korea Talks
Psalm 103:19 'The Lord has made the heavens and His Throne; from there He rules over everything.' 
1 Timothy 2:1-2 'I urge, then, first of all, that petitions, prayers, intercession and thanksgiving be made for all people – for kings and all those in authority, that we may live peaceful and quiet lives in all godliness and holiness.'
Daniel 2:21 'It is "God who changes the times and seasons; He sets up kings and deposes them. He gives wisdom to the wise and knowledge to the discerning.'
【Developing:
Upcoming US-N. Korea's new 'Development-Level Talks' is moving behind the negotiations stall. Pyongyang is looking forward to a positive discussion with America where it left off last June: 'U.S. insisted Sanction' vs. 'N.K.'s non-compliance nuclear freeze'.
U.S'. Goal  (Psa. 103:19)
With much effort from both sides on working relations where diplomacy is highly critical. There are plenty of smaller concessions both sides can make thus not to lose the momentum. Nevertheless, such discussion continues normalizing N. Korea's international relations, hopefully, Kim's treatment to his people improved, and to build good relations with South Korea.
Expectation:  (1 Tim. 2:1-2)
Pyongyang continues to build relations with South Korea and America;
N.K. stops missile testing;
implement a nuclear freeze;
improve the quality of life for their people
But none of these are achievable without any cooperation and commitment from both sides, possibly onto the future 4 years of President Trump's office.
Summing up (Dan. 2:21)
Kim realizes nuclear arsenal possession will not help enhance normalizing relations. He knows if he launched an unprovoked attack on U.S. or any ally like South Korea, the American military response would be swift and overwhelming. Cautiously, U.S. will continue to monitor preventing any Pyongyang-initiated war.
Preventing war, after all, is America's ultimate goal. Working with concessions to achieving total de-nuclearization on the Korean Peninsular are means to end this. Diplomacy and concessions by far are needed to keep the peace.
】
【Back to Top】 【Back to Related Prayer】
---
Critical Event: Pray for Hong Kong – Restoring Peace And Order
【Current Events : Hong Kong's resistance continues to heat up, police launched tear gas into many universities, especially Chinese University of Hong Kong has the most serious conflict. On November 12,The second bridge leading to the school was like the "Battle on No. 2 Bridge" the fire is raging Like a battlefield. When the riot police and the demonstrators broke out in a fierce conflict for many hours, the police fired thousands of tear gas and rubber bullets, injured a large number of student demonstrators.
In the past few days, successive large-scale violence has pushed Hong Kong into an extremely dangerous situation. Western public opinions have also quietly changed their direction, no longer publicly supporting violent demonstrators, but began to question its true purpose. Today, the school yard is a bloody battlefield. The nine university presidents of Hong Kong issued a joint statement on the evening of the 15th, calling on the Hong Kong government to take the lead in uniting the community to bring peace and order back to Hong Kong.
The Hong Kong District Council election is expected to be held on the 24th of this month. The Chinese University of Hong Kong protesters asked the government to respond to the appeal within 24 hours (including the release of all arrested persons, the establishment of an independent investigation committee, and the cancellation or postponement of district board elections). The Chief Secretary for Administration, Mr Cheung Kin-chung, said that the Government would not agree to any conditions of the demonstrators of the University and called on all parties in the community to return to rationality, maintain calm and restraint, and stop the violence. He stressed that the Hong Kong Government still hopes to hold elections that is "safe and orderly, fair and just". 】 (Source: Wind Media, Hong Kong 01, November 16)
【Back to Top】 【Back to Related Prayer】
---
Revive Europe 40 Weeks – Pray for the Republic of Macedonia

【Background: Macedonia is one of the 13 countries of the Balkans in southern Europe. It became independent in 1991. Since the northern province of Greece is also called "Macedonia", they have disputed over the country name with Greece for more than 20 years; the Macedonian parliament was amended in February 2019, and Macedonia was officially renamed "Northern Macedonia."
The History of Macedonia : Ancient Macedonia was deeply influenced by Greek culture. During Alexander the Great, a great empire spanning Europe, Asia and Africa was established. In the 5th century, the Slavs began to enter the Macedonian region and settled. But in the ninth century, Macedonia continued to be a possession of different countries. After the second Balkan war, Greece, Serbia and Bulgaria divided Macedonia, and Macedonia has been the territory of the present-day Northern Macedonia.
Ethnic Conflict : Macedonia's two ethnic groups are Macedonians (64.18%) and Albanians (25.17%). Their religious beliefs and political positions are different, and there have been long-standing squads and disputes. In 2001, the Albanian Freedom Front and the Macedonian government broke out in an armed civil war. After a year of ceasefire, the bloody conflict in Congress broke out in 2017. Recently, the new president elected by Macedonia is willing to accept the Albanian.
Social Concern : Macedonia's economy has been stagnant for a long time due to the civil war and the economic blockade imposed by Greece. It is one of the poorest countries in Europe. The high unemployment rate has caused many young people to go elsewhere to seek for the future. Long-term poverty also increases the chances of crime, and many Macedonians have recently turned to engage in the job of making fake news.
】
【Back to Top】 【Back to Related Prayer】
---
The North America First Nation – Convergence of Choctaws In Oklahoma
【Background: This article is by Jennifer Gomez – intercessor of Choctaw, who shares God's healing and revival among her people. She is a young leader God raised up  among the North American aborigines, and God is sending her to minister to different native groups. She had shared several articles on our prayer wall website, as to how God led her to pray for the First Nations. Her sharing and personal experience helps us to have a better understanding on how to pray for the First Nation people.
---
Convergence
The first weekend of October I went to a conference in the middle of Oklahoma called Glory Fest.  As we walked into this meeting, it was very evident Holy Spirit led us there.  The apostle I was with at this conference declared, this meeting was convergence that Chuck Pierce had prophesied some time ago.  He said when the winds and revival fires from the west, meet the glory from the east of Oklahoma, there will be a convergence and we will see move of God take off in Oklahoma.
I was there with the apostle and ten other ladies.  Then the ladies began declaring and decreeing what the Spirit of God was saying and showing them.  They were pressing into the heavenlies.  But I did not have any peace and the thoughts that came to me were not of God.  I realized this was an attack of the Satan because I already overcame this old mindset.  I wanted to ask for prayer for what I was experiencing, but Holy Spirit told me no, this was something I had to endure alone.  He said the ladies are doing exactly what they need to be doing, and to let them focus.  So, I said okay because I knew God was with me.
For two days I endured these constant arrows being fired at me and I kept taking each thought captive and then I would release a prayer of what Holy Spirit wanted me to release.  Finally, I came to a place of where I was no longer tired, but I shifted into ready to fight and take the head of the enemy.
On the morning of the third day, the prophet came to let us so we can do prayer intercession for the tribal council meetings that were taking place that morning.  As we stepped into the place of intercession, I realized everything I had been experiencing is what was in the land.  I realized the believers from this area were constantly fighting in that region.  I went into a travail and could felt the evil that had been bringing sickness to the people.  Then another apostle said someone from the tribe needs to repent, and as soon as they stepped into repentance a huge shift came through and we were able to deal with the strongman in the land.
That evening we had service and there was a young first nation man there about 15 years of age named Eagle, who was in the foster care program.  This young man had been through a lot in life  I had built a relationship with him in those couple of days.  I could tell he wanted to worship, so I invited him to come worship.  As soon as he stepped into the worship, Holy Spirit said tell him to close his eyes, spread out his arms and pretend he is flying like an eagle, and when he did that, Holy Spirit will show him something.  So, I gave him the instructions and he did it.  Suddenly, there was a surprised look on his face, and I asked him what he saw.  He had a hard time searching for his words, but he did say he was dancing in a place he never seen.  I told him to do it again.  So, he does it again.  This time he said he felt someone holding his hand and he wanted to cry.  I tell him that is God the Father holding his hand and letting him know he is with him every step of the way, and if he wants to cry it is ok to cry to let it all out.  I tell him do it again.  So, he does it again.  This time Eagle fell to his knees and wept.
Eagle lives in foster home with about six other children from the ages of 3 -12.  They saw him crying and ran to him to comfort him, but I knew Eagle needed this time with Jesus.  I told them it is ok because he is having a moment with Jesus. Then you could hear the children's whispers across the room saying, "Eagle is having a moment with Jesus."  Once he is done crying, Eagle tells me, "God told me I have to let go of the old to receive the new."  I was amazed by this wisdom and revelation this young man is getting that would forever change his life.  I felt this was the word that needed to go forth to the church.  I asked him if he would share and he said yes.
After Eagle released the word, I stepped over to the side.  Then his little brothers came over to give me a hug.  The little brother, who is about 6 years of age, looks at me and his eyes fill up with tears, and he yells thank you!  Again, he says thank you! Then he throws his little arms around my neck (I kneeled to the floor and eye level with him) and yells THANK YOU!  At this point both of us were crying and he is yelling THANK You!  I knew he had encountered Jesus.  We there for a moment crying and he is yelling thank you over and over, and before I knew it, the other children were around me.  They all were crying, and yelling thank you!!!  At this point we are surrounded by the church and the little boy yells while he is crying, "God says we have to let go of the old to receive the new!"  The adults are crying too, because they have prayed for these children for the last year.  I felt their pain, hurt, rejection, disappointment, fears and worries they were carrying, but they were giving all of it to Jesus!  Finally, after weeping, we all stood up and began worshipping the Lord.  They throw their hands up in the air and start confessing their love to the Lord.  They are yelling, "I love You Jesus!"  The same little boy yells at the adults, "God says love everyone!  Do you hear me?  God says to love EVERYONE!"  Then the 12-year old girl throws her fist in the air and proclaims, "I am a mighty woman of God!" The little boys yell, "I am a mighty man of God!"
I had witnessed the Glory of God hit the children and set them free.  They shifted from the old and stepped into the new.  That evening they received their identity.  I realize this, we went in together as a team and everyone had a very important role to play.  My assignment that weekend was to deal with what enemy thought he planted in the ground.  God gave me strength to endure the battle I had to face, and as a team we were able to experience a mighty move of God that brought healing to the next generation.
Pray that the first nations people will mature and step into total trust with the Lord in every battle and trial they experience for the breakthrough of the land and people according to II Chronicles 7:14. Pray the first nations people will work as a team and recognize everyone's role is important no matter how big or small it MAY SEEM.  Everyone has a very important role in the Kingdom of Heaven!  In order for us to experience a transformation we must rest in trusting the Lord, hearing and being obedient to Holy Spirit's voice, honoring each other in word and action, and being brave and courageous in the battles.
】
【Back to Top】 【Back to Related Prayer】
---
---
---
Cleansing And Covering Prayer
---
Cleansing
 Prayers
Dear Heavenly Father, I ________ (put your name in it) come to the throne of grace, through the blood of Jesus Christ, the power of the Holy Spirit, to receive Your abundant grace and mercy.   Lord Jesus, ________ confess You are the Lord of my life.   I ask the resurrected power of the Holy Spirit to fill and saturate every part of my being.   I surrender all my spirit, soul and body completely to You.  Now I ask You to reveal to me, remind me of any sin that I have committed known or unknown, so that I can confess and repent of them accordingly. (Recommendation:  quiet yourself, so you can allow the Holy Spirit to reveal to you)
Cleanse me from all the defilement of the world, sanctify me and my family line of any unrighteousness with the blood of Jesus.   Now by my own will, I choose to forgive everyone that has offended me or hurt me, I release them into the freedom of my forgiveness.   I also release them from the debts they might owe me. I now cast all my burden to You .  Your yoke is easy, Your burden is light.   I now put on the armor of God that You have given me, gird myself with the belt of truth, the breastplate of righteousness, the helmet of salvation, the shield of faith, the sword of the Spirit, my feet fitted with the gospel of peace, so that I can pray and intercede in the Holy Spirit by Your mighty power, and after done all to stand firm.
---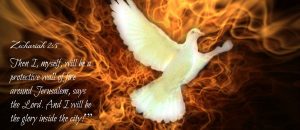 ---
Firewall Covering Prayer
Abba Father, I thank you for watching and blessing us coming in and going out, from now and forevermore.
Abba Father, help us to hide under the shadow of the Almighty, and cover us with Your wings.   I now plead the blood of Jesus Christ of Nazareth on myself, my entire family _________
(speak names of your family, and name the people, things, items, that needs covering, such as : your work, ministries, and everyone that you minister to, your  property, finances, friends, pets, vehicles, pastors and small group leaders / members and president )
Abba Father, send the host of angels and chariots of fire, to surround and protect us, I ask that You place the power of the Cross of Jesus Christ, in between everyone and the power of darkness that we might be facing today, to block all ungodly influences and keep us from all spiritual attacks, loss of property and any evil strategy of the enemies. We declare no weapon formed against us shall prosper.   Lead us not into temptation and deliver us from evil.
In Jesus' name I pray, Amen!
---
Pray for Organizers, leaders and editorial team of this 40-day fast
Please pray for the people who are involved in organizing and making this Global 40 Day Prayer And Fast movement possible.  Particularly,  please pray for the spiritual leaders, their co-workers, and their family members, the behind-the-scene editorial team and their spiritual coverings, and family members.  Please ask God to:
protect everyone involved in the global prayer and fast and their families.  May God watch their coming and going and  keep them healthy with prosperous spirits, souls, and bodies.
bless the editorial team to be able to receive from God and translate it into words speedily and accurately.
---